Drift American is excited to welcome Rise Fab Shop to our ever-expanding Mustang drift parts catalog. As the Mustang drift market continues to expand, we are proud to offer more quality, American-made parts to our site. Rise Fab Shop offers several high quality suspension components for the 2015-2022 Mustang, and is currently developing many more parts for other Mustang chassis' as well. Send us your feedback on parts you are wanting for your Mustang, and in the meantime, let us know your thoughts on some of the recently developed Mustang drift parts by Rise Fab Shop. It's truly an exciting time to be a Mustang drifter!
Check out the new S550 Mustang offerings below!
2015-2022 Mustang S550 Rear Vertical Link Set by Rise Fab Shop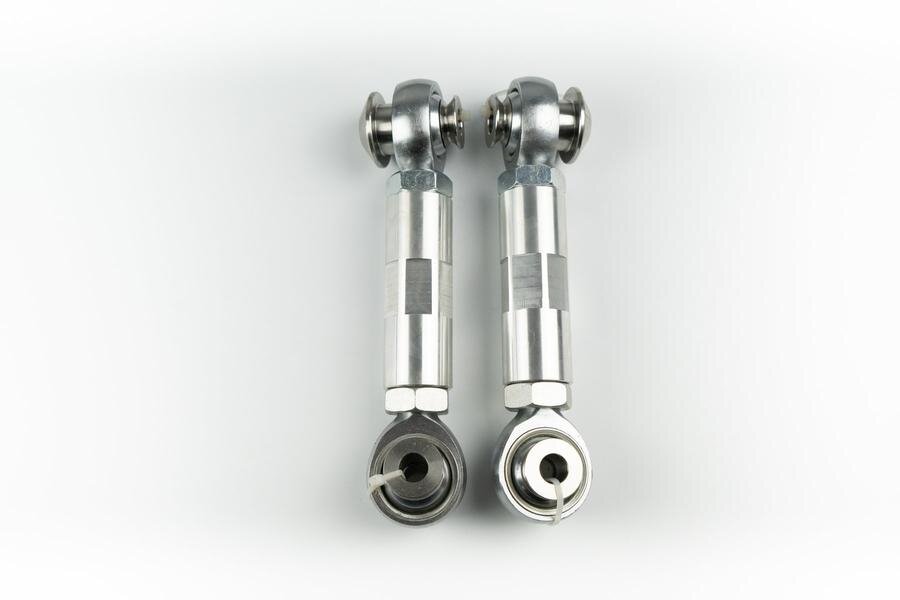 These S550 Mustang Rear Vertical Links are a robust way to increase the performance of the rear suspension of your 2015-2021 Mustang. These links are made in America from 7075 aluminum, chromoly, and stainless steel and are built to last. Click here for more info, or the image above.
2015-2022 Mustang S550 Rear Toe Arms by Rise Fab Shop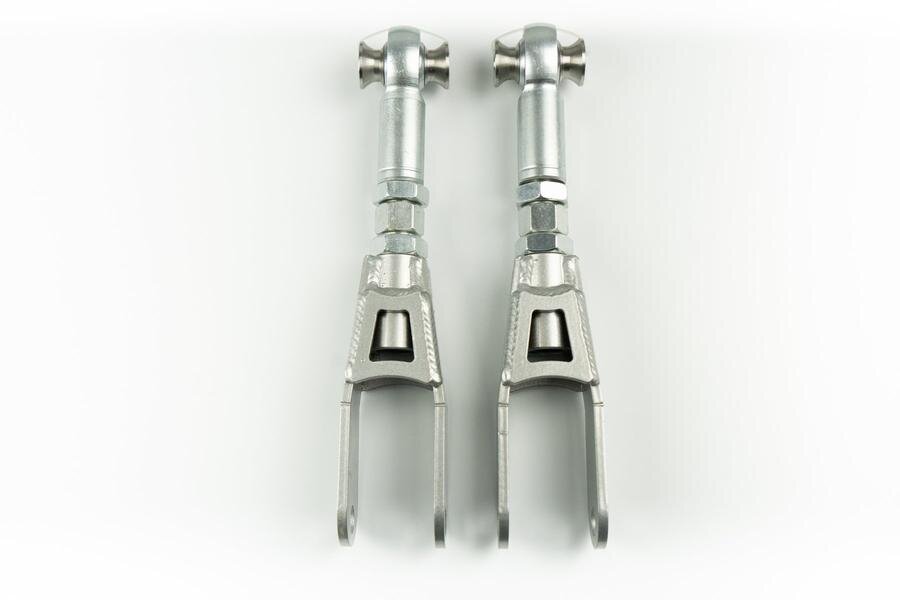 These S550 Mustang rear toe arms are designed for customizable toe settings that can allow you to get the most mechanical grip from your chassis. Made from alloy steel, these toe arms feature an easy, on-car adjustable, turn buck for quick adjustments.
2015-2022 Mustang Rear Upper Control Arms by Rise Fab Shop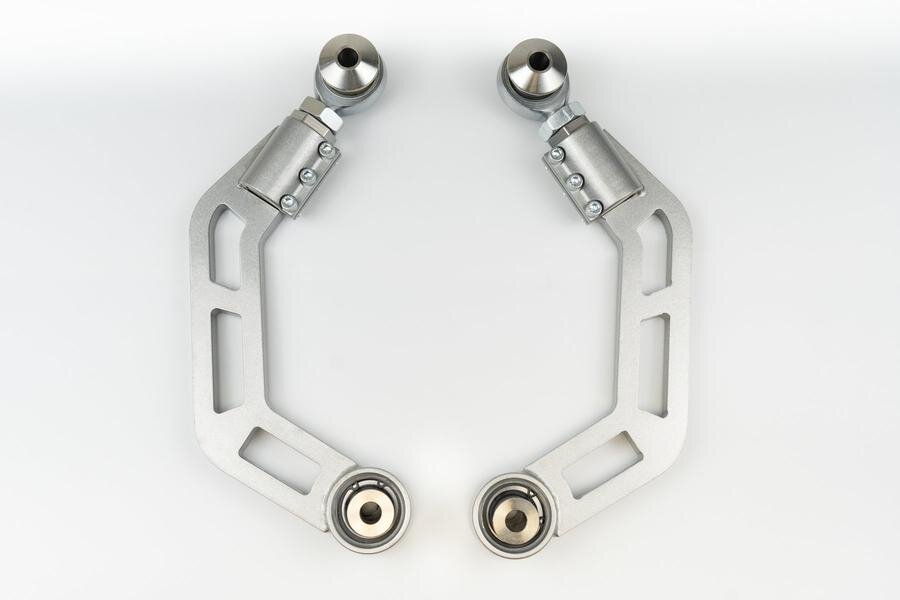 These S550 Mustang rear upper control arms (RUCA) are made from high-strength alloy steel, and are used to adjust camber and feature a locking collar, meaning 1 less jam nut is needed while also reducing the chance of loosening under hard abuse. These control arms also feature a double adjuster allowing for full adjustment without removing the arm. Made in the USA.
2015-2022 Mustang S550 Solid Subframe Bushing Kit by Rise Fab Shop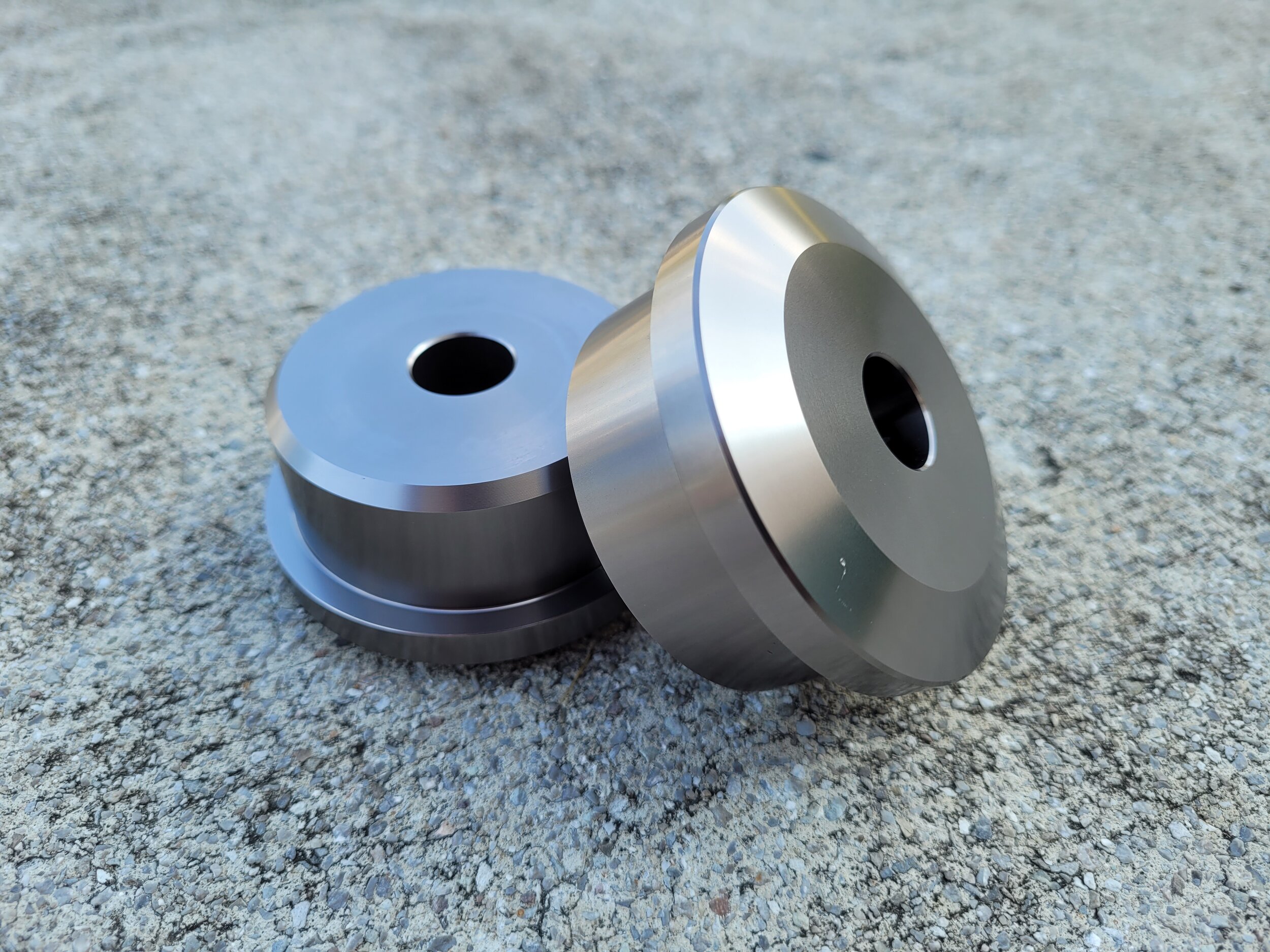 Improve performance by getting rid of the sloppy factory rear subframe bushings on your 2015-2022 Mustang! All 8 pieces of this solid subframe bushing kit are made from 6061 aluminum and anodized in a titanium color to protect them from corrosion. This bushing kits primary function is to reduce wheel hop and improve traction, thus increasing your Mustang's performance by getting more power to the ground. These are the same bushings that Rise Fab Shop uses in their QuickChange subframes in their S550 Mustang.
2015-2022 Mustang S550 Solid Differential Bushings by Rise Fab Shop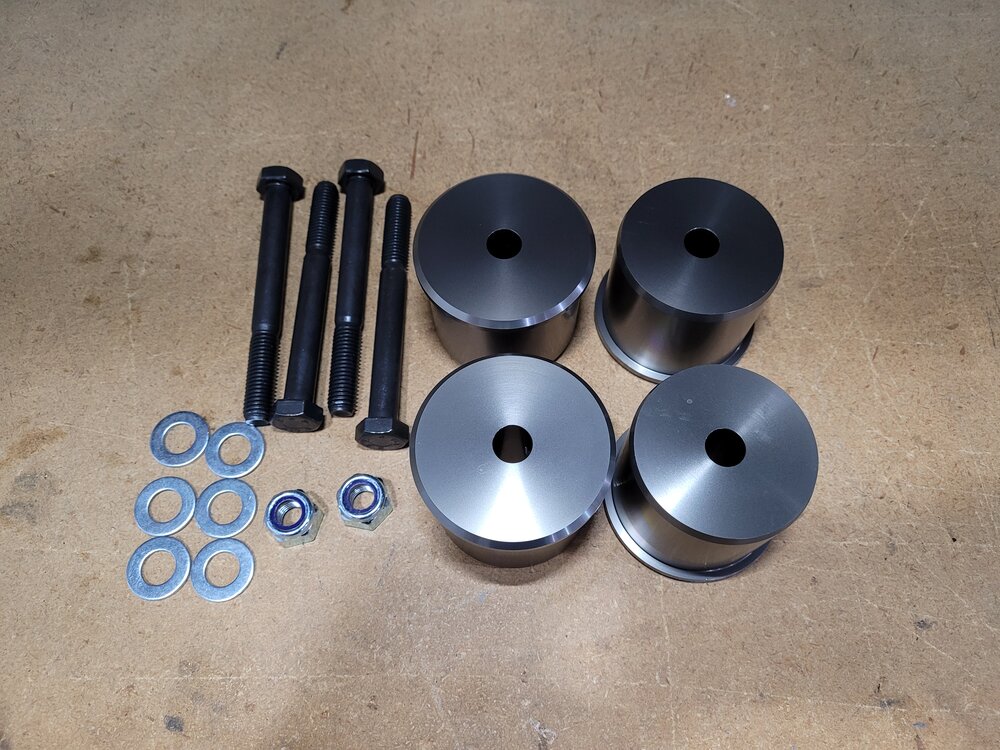 Eliminate differential movement and pinion rise due to the factory rubber bushings in your S550 Mustang! The factory rubber bushings are sloppy, cause wheel hop, and prevent power from getting to the ground. These solid billet aluminum replacement bushings will make your Mustang perform as it should, and are anodized to protect the aluminum against the elements.
2015-2022 Mustang S550 Quick Change Rear Subframe By Rise Fab Shop
This modified subframe adapts the 10" Winters Quick Change differential from RTS into the S550 Mustang rear subframe. Tested and able to withstand 1200 Horsepower worth of abuse, this will be the last rear differential setup you will ever need for your drift or road race Mustang. Click here for more info, or click the image above.